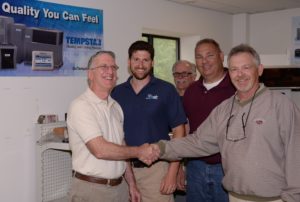 Home Heating & Air Conditioning, LLC is a small HVAC company in West Haven, Conn., specializing in residential furnace and air conditioner replacement, as well as new construction installation. Every job is custom-designed, and we pride ourselves on fabricating all sheet metal ductwork in-house. We strive to uphold the highest installation standards and to provide that personal touch, treating each home as if it were our own.
With nearly four decades of experience in the industry, owner and founder Dave Teodosio has serviced and installed numerous makes and models of HVAC equipment, but has remained loyal to Tempstar (ICP). ICP has been the gold standard in HVAC products for more than 50 years, manufacturing equipment of the highest quality and efficiency, with long-lasting reliability.
Call (203) 932-5484 and speak to Dave TODAY for help with any Heating and Air Conditioning needs!